We at Aidias Consulting Group, believe that our success has been due to the education that all of us have gone through during our lifetime. We also understand that there are many families who do not have the economic ability to send their children to school. And there are many families where there is no education for generations. We firmly believe that education can improve the socio-economic condition of any family. Therefore, as our Corporate Social Responsibility, we have decided to partner with
Ankur which is a school for children belonging to such families. Since the start of Ankur, the governing philosophy of the school is inspired by an iconic dialogue- 'Amra shobai raja' (meaning that all of us are Emperors)- from one of the Satyajit Ray classics. Ankur takes utmost care and conducts complete due diligence on the family's socio-economic parameters before the child is given admission.
The Founders of Ankur, Mr. Suman Sengupta & Mrs. Rajyashree Halder take pride in the journey of Ankur thus far (15+ years) and the value addition that they have done to the lives of families whose children have studied at Ankur. The school was closed during the covid time and has resumed in 2022.
At present we have 50 students who have joined the lowest class. Our endeavour is to nurture the children till Class IV in Ankur as per CBSE English Medium curriculum. After that, we intend to tie-up with schools where the children can migrate for further education with a strict, merit-based admission process.
We also intend to support the children and their mothers regarding their basic health requirements. Moreover, those parents who are willing would be enrolled in adult literacy classes for overall development of the family.
On the occasion of Children's Day (14 November 2022), we are starting this journey by supporting 10 children. Our support will provide each child with a school bag, text books, stationery, school uniform and one nutritional food item everyday at school. Already 30 out of the 50 students presently studying at Ankur have received this annual support from benevolent individuals/ organisations.
If you intend to support any child, please write to us at csr@aidias.in and we will connect you to Ankur for doing the needful.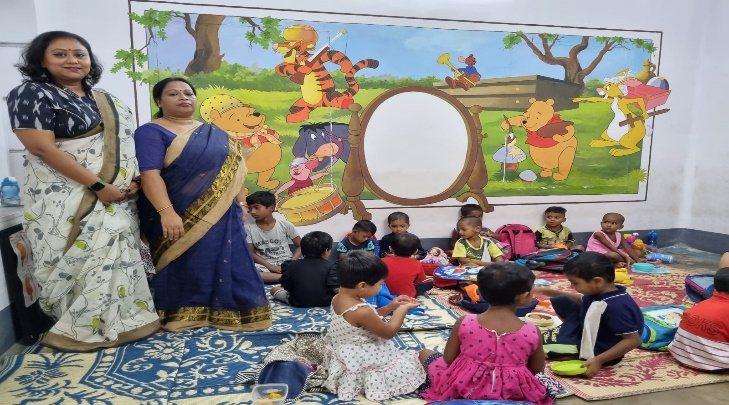 A special word of thanks is necessary for all the teachers and the staff of Ankur, who have selflessly dedicated themselves to make every child "feel like a King". Anyone in Kolkata, who wants to volunteer for any service and be associated with Ankur is most welcome to do so. Please write to us at csr@aidias.in